Vossabadet Indoor Swimming Centre
Address: Idrottsvegen 14, 5700 Voss
Date: Friday 20 nov 2020 - Thursday 31 Dec 2020
Show map
Address: Idrottsvegen 14, 5700 Voss

The indoor swimming pool centre Vossabadet opened in october 2017, and has three different pools. Guaranteed fun for the whole family!
The biggest pool is the excersise pool, which is 25 meter long and of international competition standard. With six swimming lanes, there is plenty of room for all kinds of swimmers. Try our fun obstacle course in weekends and holidays!

In the diving pool you can jump from 1, 3 or 5 meters.

The third pool has warm water of 32 degrees celcius, and is absolutely lovely to swim in. Especially popular amongst children, families and older people.

Vossabadet also has a sauna, a waterslide and a cafe.
Show more
Date

Sunday 6 dec 2020
Monday 7 dec 2020
Tuesday 8 dec 2020
Wednesday 9 dec 2020
Thursday 10 dec 2020
Friday 11 dec 2020
Saturday 12 dec 2020
Sunday 13 dec 2020
Monday 14 dec 2020
Tuesday 15 dec 2020
Wednesday 16 dec 2020
Thursday 17 dec 2020
Friday 18 dec 2020
Saturday 19 dec 2020
Sunday 20 dec 2020
Monday 21 dec 2020
Tuesday 22 dec 2020
Wednesday 23 dec 2020
Thursday 24 dec 2020
Friday 25 dec 2020
Saturday 26 dec 2020
Sunday 27 dec 2020
Monday 28 dec 2020
Tuesday 29 dec 2020
Wednesday 30 dec 2020
Thursday 31 dec 2020
About this activity
Website
Opening hours
Open all year. Monday: 6.30AM to 9.00PM Tuesday: 7.30AM to 9.00PM Wednesday: 6.30AM to 9.00PM Thursday: 7.30AM to 9.00PM Friday: 7.30AM to 9.00PM Saturday: 11.00AM to 6.00PM Sunday: 11.00AM to 6.00PM
Price information
Adults (weekdays): 120 NOK Adults (weekends): 145 NOK Young adults 13-19 years, and seniors (weekdays): 90 NOK Young adults 13-19 years, and seniors (weekends): 115 NOK Children 4-12 years (weekdays): 80 NOK Children 4-12 years (weekends): 105 NOK Children 0-3 years (weekdays): 55 NOK Children 0-3 years (weekends): 55 NOK
Hotels
Distance: 1.3 km
Store Ringheim Hotel is an old farm that is restored and made into a small and unique boutique hotel.
Hostels
Distance: 1.6 km
Located with own beach 800m from Voss station. 4-5-bedded standard room with bunk beds that can be booked privately for 1-4 persons. No extra cost for children from 0-3 years. Rate includes bed linen and breakfast. All our rooms have toilet and shower.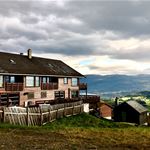 Apartments
Distance: 3.1 km
Stay in modern self-service apartments with the mountains and nature is located right outside your doorstep. These apartments are located on the second floor above the reception, 100-500 meters from the ski lift.