Bordalsgjelet is a spectacular natural attraction within walking distance from the town centre.
The deep and imposing Bordalsgjelet has been adapted for the visiting public with an information board, a viewpoint and benches for resting tired legs. When the ground isn't hidden by snow it is possible to follow a purposely-built path that guides you to the gorge.

Here you can experience an impressive view of the potholes that have been formed by the ice and river over a period of many thousands of years. Always remember to keep to the marked trails for your own safety!
Show more
Hostels
Distance: 2.1 km
Located with own beach 800m from Voss station. 4-5-bedded standard room with bunk beds that can be booked privately for 1-4 persons. No extra cost for children from 0-3 years. Rate includes bed linen and breakfast. All our rooms have toilet and shower.
Hotels
Distance: 2.8 km
Store Ringheim Hotel is an old farm that is restored and made into a small and unique boutique hotel.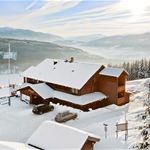 Apartments
Distance: 4.5 km
Stay in modern self-service apartments with the mountains and nature is located right outside your doorstep. These apartments are located on the second floor above the reception, 100-300 meters from the ski lift.