Hiking tour to overview 4 fjords - Outdoor Norway
Address: Evangervegen 16, 5700 Voss
Date: Friday 8 may 2020 - Saturday 10 Oct 2020
Show map
Address: Evangervegen 16, 5700 Voss

Our full day hiking tour will take you to the most scenic mountains around Hordaland.
Get off the beaten path with full day trip and head up to Mount Oksen (The Bull) - one of the true landmarks along Hardangerfjorden. The mountain rises up from arms of the Hardangerfjord - Samlafjorden, Sørfjorden, Eidfjorden and Granvinsfjorden.

The Hardangerfjord is the fourth longest fjord in the world, and the second longest fjord in Norway.
At the top you will get a panoramic 360 degrees view of 4 fjords at same time, a remarkable eyesight of Hardangerfjorden and the mountain areas of Voss and Hardanger. You will also see Norway's third largest glacier - Folgefonna. Most people are able to walk all the way to the top, but the trail is partly very steep.

Grading:
This is a demanding hike. There are no dangerous passages along the trail, but it is steep all the way. There are two particularly steep parts - between 400 and 600 masl and between 800-1100 masl. We have some short pauses on way up for rest and photographing.

Height difference:
From the parking at 250mts altitude to the top of Oksen 1241mts, the height difference is approximately 990 meters.

Trip duration:
7 hours in total including transport
Approx. 5 to 6 hours hiking

Season:
July till October
Trip schedule: 10am daily

Price:
7 hours tour: 800 NOK per person. Minimum 3 persons enrolled or payment equivalent.

Meeting point:
Our operational base is a tent which is located by the lakeside of Vangsvatnet in Voss. Only 100mts from the train station and the gondola.

Show up 10 minutes before your scheduled time at our operational base

NB! With less than 3 persons enrolled, this trip will be cancelled. We will contact you, and you will have your money refunded.
Show more
Book now - choose start date and product
About this activity
Prices from

Price information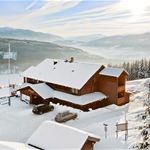 Apartments
Distance: 3 km
Stay in modern self-service apartments with the mountains and nature is located right outside your doorstep. These apartments are located on the second floor above the reception, 100-500 meters from the ski lift.
Hotels
Distance: 1.6 km
Store Ringheim Hotel is an old farm that is restored and made into a small and unique boutique hotel.
Cabins
Distance: 3 km
Charming self service cabins with nature right outside your doorstep. This cabin area is located close to our reception, and 100-500m from the ski lifts.