Snowshoeing in Raundalen - Wild Voss
Address: 5706 Voss
Date: Tuesday 3 mar 2020 - Tuesday 21 Apr 2020
Show map


Address: 5706 Voss

Would you like to walk through a forest blanketed by deep snow? Or enjoy the stillness of free nature during its long winter sleep?

Our guided snowshoeing trip to Raundalen is a good way for you to get a real winter experience without the need of skis. This is a non-technical and family-friendly experience in the snow, surrounded by impressive, wild nature. Raundalen is a secluded valley featuring wild and unspoilt mountain nature. The beautiful Raundalen River winds its way through narrow gorges and forested marshlands. Snowy mountains with steep hillsides frame the valley on both sides. Deer, elks and other wild animals can be spotted, if we are lucky. The railway line between Bergen and Oslo runs through this valley, allowing for practical and emission-free access.

During a typical day out, your guide will make sure you learn basic skills for safe travel in winter, introduce you to both nature and local culture and make sure you feel comfortable at all times.

At our lunch spot for the day, we build a bonfire together and enjoy something hot to drink and a bite to eat. Here's an opportunity for you to learn what it takes to make a bonfire of your own. We use the heat of the flames to prepare our meal. If the weather is bad, we'll join forces and build an improvised shelter to keep us dry and out of the wind. You'll find that the time spent near the bonfire provides a good opportunity for contemplation and leaving the civilised world behind for a few moments.

Season and availability:
Trips are run daily in the winter season - from December 15th to April 21st. Group sizes:
1-12 participants.
This is a non-technical and family-friendly excursion. This trip is suitable for healthy people who would like to spend some time in peaceful, unspoilt nature. This trip takes you through woodland terrain, which means we are normally sheltered from strong winds and inclement weather. No prior hiking or skiing experience is required.

Prices and terms:
The price for adults is NOK 1490 per person. The price for children aged 8-14 is NOK 990 per person. Minimum age is 8 years old.
Included in the price:
- An experienced guide during your trip.
- A light meal including hot drinks – prepared on a bonfire.
- Snowshoes and ski poles.
- Warm boots.
- Unlimited access to warm clothing if needed.
- All necessary safety equipment.
- Train tickets.

Not included in the price:
Transport services other than train transport, if needed other transportation can be arranged on request (additonal cost).

Practical details:
Meet outside the café called Tre Brør near the town square of Voss at 9.15 a.m. We meet and greet and go through our equipment and clothing. Afterwards we walk to the railway station and catch the 10 a.m. train to Skiple in Raundalen. The estimated travel time is 20 minutes. We return to Voss by a local train departing Skiple at 4.10 p.m.

Clothing and equipment:
Please wear warm clothes on this trip, such as:
- Woolen thermals (long underwear).
- Warm woolen socks.
- Wind- and waterproof clothing (shell layer).
- Beanie or knit cap.
- Gloves or mittens.
- A small rucksack, sunglasses, a water bottle and a snack or a sandwich is also useful

For your safety and wellbeing, we provide the following equipment without added cost:
- Warm winter boots of high standard.
- Woolen clothing such as mittens, beanie, sweaters, head-over scarf and socks.

Questions? Contact Øystein at + 47 93484041 or send a e-mail to [email protected]
Show more
Book now - choose start date and product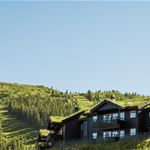 Cabins
Distance: 5.8 km
Stay in modern self service cabins at Tråstølen - our newest cabin area in Voss Resort. The cabins are located uphill in the resort and right next to the ski slopes (ski in/ski out), about 2-3 km from the reception.
Cabins
Distance: 5.8 km
Charming self service cabins with nature right outside your doorstep. This cabin area is located close to our reception, and 100-500m from the ski lifts.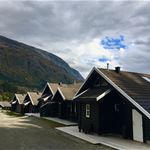 Cabins
Distance: 5.8 km
Cozy cabin area with self-service cabins located right below the ski resort. Bavallslia is the area closest to the ski ticket office and chair lift in Bavallen. The cabins are located 500 meters from the reception.