Voss ski- og tursenter - Cross-country skiing
Address: Skutlesvegen, 5709 Voss
Date: Friday 20 nov 2020 - Thursday 31 Dec 2020
Show map
Address: Skutlesvegen, 5709 Voss

Voss Ski- og Tursenter, centre for cross-country skiing and biathlon, is located approximately 15 minutes by car from Voss town centre.
Winter:
In winter time you'll find cross-country trails for skiers of all levels. There is competition trails, a 5 km floodlit trail and 20 km of trails in a family-friendly area rich in snow. You can drive right up to the centre where there is a large parking area.

Toll road and parking: Vinter NOK 100. Summer NOK 100.

Summer:
In summer it's nice to use the roller ski track, og to go for a walk iat the forest roads and trails.

Parking and payment:
You can drive right up to the centre where there is a large parking area. Please note that there is a parking fee. One can buy day passes at the self-service payment box at Skutle or Gjelland.
Seasonal and annual permits can be purchased online at www.vsot.no.
Show more
Date

Saturday 28 nov 2020
Sunday 29 nov 2020
Monday 30 nov 2020
Tuesday 1 dec 2020
Wednesday 2 dec 2020
Thursday 3 dec 2020
Friday 4 dec 2020
Saturday 5 dec 2020
Sunday 6 dec 2020
Monday 7 dec 2020
Tuesday 8 dec 2020
Wednesday 9 dec 2020
Thursday 10 dec 2020
Friday 11 dec 2020
Saturday 12 dec 2020
Sunday 13 dec 2020
Monday 14 dec 2020
Tuesday 15 dec 2020
Wednesday 16 dec 2020
Thursday 17 dec 2020
Friday 18 dec 2020
Saturday 19 dec 2020
Sunday 20 dec 2020
Monday 21 dec 2020
Tuesday 22 dec 2020
Wednesday 23 dec 2020
Thursday 24 dec 2020
Friday 25 dec 2020
Saturday 26 dec 2020
Sunday 27 dec 2020
Monday 28 dec 2020
Tuesday 29 dec 2020
Wednesday 30 dec 2020
Thursday 31 dec 2020
About this activity
Contact person email
Website
Hotels
Distance: 3.8 km
Store Ringheim Hotel is an old farm that is restored and made into a small and unique boutique hotel.
Hostels
Distance: 4.4 km
Located with own beach 800m from Voss station. 4-5-bedded standard room with bunk beds that can be booked privately for 1-4 persons. No extra cost for children from 0-3 years. Rate includes bed linen and breakfast. All our rooms have toilet and shower.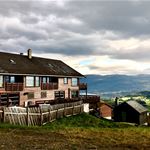 Apartments
Distance: 5.5 km
Stay in modern self-service apartments with the mountains and nature is located right outside your doorstep. These apartments are located on the second floor above the reception, 100-500 meters from the ski lift.