Lønahorgi hikes for three different levels - Wild Voss
Date: Thursday 31 oct 2019 - Friday 15 Nov 2019
Show map
Family hikes, peak ascent and climbing. The east side of Horgi has a lot to offer!
Immediately north of Voss lies the impressive mountain called Lønahorgi, or just "Horgi". Rising to 1410 meters above sea level, this mountain isn't quite the highest one in Voss. But none of its mountain neigbours can match it in terms of accessibility, esthetics and character.

​We think the east side of the mountain has most to offer. Our multilingual and competent guides are happy to take you on various types of hikes, depending on your wishes and ambitions. We offer both family-friendly hikes on old paths used for mountain farming, as well as demanding peak ascents. Below you'll find closer descriptions of three different trips.

1. The cultural landscape below Lønahorgi.
2. Peak ascent of Lønahorgi.
3. Alpine ascent of the East pillar.
Show more
Book now - choose start date and product
Cabins
Distance: 5.3 km
Stay in modern self service cabins at Tråstølen - our newest cabin area in Voss Resort. The cabins are located uphill in the resort and right next to the ski slopes (ski in/ski out), about 2-3 km from the reception.
Cabins
Distance: 5.3 km
Charming self service cabins with nature right outside your doorstep. This cabin area is located close to our service center Bavallstunet (reception and after ski) and 100-500m from the ski lifts.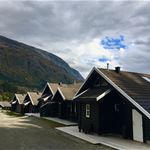 Cabins
Distance: 5.3 km
Cozy cabin area with self-service cabins located right below the ski resort. Bavallslia is the area closest to the ski ticket office and chair lift in Bavallen. The cabins are located 500 meters from the reception.