Voss Folk Museum
Address: Mølstervegen 143, 5700 Voss
Show map
Address: Mølstervegen 143, 5700 Voss

Voss Folkemuseum is a local museum whose purpose is to preserve items of historic interest from Voss and the surrounding area.
When the Museum was founded in 1917 one of its main aims was to preserve the old farmstead at Mølster (Mølstertunet), where all the buildings still stand where they were once built.

Mølstertunet farm stead:

At the Farmstead "Mølstertunet" you can get the feeling of being transported back into history. The wooden walls of the buildings have been weathered brownish-grey and the roofs are covered with timeless turf or ancient slates. Inside the old farmhouse the walls still give off the pungent smell of smoke from the open hearth.

The buildings stand today where they have always stood, and nothing has been added or removed. The buildings, therefore, give a genuine impression of the working and living conditions which developed over the centuries.

The oldest building is a log house with an open hearth (årestove), which is believed to be from about 1500, and the most recent building dates from the 1880s.

Opening hours:
From 21th of June - 16th of August, from 11.00 am to 4 pm.

For groups requests contact on phone +47 474 79 794

Because of Covid-19 measures there will not be offered traditional guided tours in the buildings this summer. But we are happy to tell you about museum and the livinng here.

A new exhibition will be opened in 2021, because of this, parts of the buidling will be closed for guests.
Show more
About this activity
Contact person email
Opening hours
1. june–31. august: Every day 11:00–16:00. 1. september–31. may: Mon-fri 10:00–15:00, sun 12:00–15:00.
Price information
Ticket for adults: 55 NOK Children (until 15 years): Free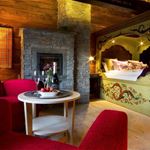 Hotels
Distance: 1 km
Store Ringheim Hotel is an old farm that is restored and made into a small and unique boutique hotel.
Hostels
Distance: 1.2 km
Located with own beach 800m from Voss station. 4-5-bedded standard room with bunk beds that can be booked privately for 1-4 persons. No extra cost for children from 0-3 years. Rate includes bed linen and breakfast. All our rooms have toilet and shower.
Apartments
Distance: 2.3 km
Stay in modern self-service apartments with the mountains and nature is located right outside your doorstep. These apartments are located on the second floor above the reception.