Guided MTB Tour to The Grand Traverse - Outdoor Norway
Address: Evangervegen 14, 5700 Voss
Date: Saturday 17 aug 2019 - Saturday 31 Aug 2019
Show map
Address: Evangervegen 14, 5700 Voss

Hidden singletrack journey traversing a stunning mountain region.
Outdoor Norway expert guides will take you on hidden singletrack journey to experience a true wilderness ride in Norway. The views along this route from Oppheim to Liaset are simply gorgeous.

To get where no others go we need to push our bikes up in the mountain from Lake Oppheim. As we ride across the mountain ridge the splendours views unfolds and we can spot down the three valleys of the mountainsides and the Lønahorgi Peak at west. We stop at Skorseteggi Peak at 972 masl. to take a break and enjoy our delicious snack and the nature surroundings.

Reaching south side ridge and Liaset it's time to embark on a long ride downwards mixing three short up's until get back to Voss at 60 masl.

This beautiful route is perfect for those who are in good shape and used to challenging rides. The Grand Traverse is technically a complete loop, starting in town, involving many kilometers of paved road by shuttle, and returning by biking all the way back to town. A great long day journey.

Recommended for advanced riders. A fit rider on a strong intermediate skills level who don't mind to walk around the few difficult sections and is up for a challenge will have a great experience.

This trip includes:
- Hidden singletrack journey
- Rough terrain, rocks gardens and root sections to master your skills
- High-end full suspension mountain bike from CUBE
- Certified MTB guide, friendly and local knowledgeable
- Wilderness Norway
- Stunning views
- A great bike shredding

Intinerary:
1- Check-in at our outdoor base 10 minutes before you schedule time.
2 – Gear up
3 – Quickly warm-up and bike check + adjusting
4 – Shutle drive 35 minutes
5 – Grand Traverse journey
6 – Biking back to our outdoor base.
7 – Gear out
8 – Help to water spray to clean the bikes
9 – Drink a cold one from the local brewery. Skål!

Ride data:
Hours of riding 6
Distance ridden 28km
Elevation gained 1.008 masl.
Elevation lost 1.610 masl.
Highest elevation 972 masl.

Duration:
7 hours total

Depature dates:
22nd June, Saturday
29th June, Saturday
13th July, Saturday
27th July, Saturday
17th August, Saturday
31st August, Saturday

Departure time:
9:30 am.

Price:
1350 NOK - Adult
1215 NOK - Youth – (14 to 17 years old)
4617 NOK - Family (2 adults + 2 youth)

Guest requirements:
Min age 14 (with good mountain bike experience and handling)
Good physical health
Please inform us of any medical conditions like asthma, epilepsy etc

Meeting point:
Our operational base is an Outdoor Lounge Tent is located by the lakeside of Vangsvatnet in Voss. Only 100mts from the gondola and the train station.

Show up 10 minutes before your scheduled time at our operational base.
Show more
Book now - choose start date and product
About this activity
Prices from

Price information

Adult: 1350 NOK, Children (born in 2001 and after): 1215 NOK
Apartments
Distance: 3 km
Stay in modern self-service apartments with the mountains and nature is located right outside your doorstep. These apartments are located on the second floor of the service building in Bavallstunet, 100-500 meters from the ski lift.
Cabins
Distance: 3 km
Stay in modern self service cabins at Tråstølen - our newest cabin area in Voss Resort. The cabins are located uphill in the resort and right next to the ski slopes (ski in/ski out), about 2-3 km from the reception.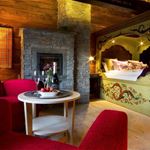 Hotels
Distance: 1.6 km
Store Ringheim Hotel is an old farm that is restored and made into a small and unique boutique hotel.